The Smart City Expo World Congress held in Barcelona on 15th, 16th and 17th November. BGEO introduced to visitors the main features that will incorporate version 2.0 of Giswater, the open source tool for the integral management of the water cycle that will be released in coming weeks.
Smart City Expo World Congress brings together more than 15,000 visitors from more than 100 countries and 500 cities who want to know the latest smart solutions to give more and better services to citizens around the world. It was, therefore, the ideal framework for BGEO to show its services related to the intelligent management of water and sewerage based on Giswater technology. Professionals who approached to Giswater stand were able to know firsthand what will be the main features that will incorporate version 2.0 of Giswater, which should be released in the coming weeks. It should be remembered that Giswater is a tool developed entirely in open source and that, therefore, can be downloaded, modified and distributed without cost or restriction.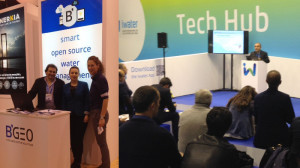 This has been the second year that BGEO has been present in this world reference show, and once again has had its stand in the space that Barcelona City Council gives in advantageous conditions to local companies that stand out for their innovative offer. In addition, must be remarked that during last year BGEO has collaborated intensively with the Barcelona City Council and the public company BCASA to develop an intelligent system of sewerage network analysis for the city of Barcelona.
Giswater also had a prominent participation in the iWater international show on the integrated water cycle that is being held simultaneously and in a venue annexed to the Smart City Expo World Congres. Giswater member, Xavier Torret, held a conference entitled "Smart Water: Open Technologies for Water Cycle Management", during which he asked administrations and companies to bet for innovation through open technologies and data to share information, solutions, knowledge and wealth.
Share this with your friends